Pinterest

Print

Save

Facebook

Email
(function() { document.addEventListener('DOMContentLoaded', function() { var componentMetadata = JSON.parse('\x7b\x22componentName\x22\x3a\x22ActionToolbar_0062db4d-452e-4eba-af2d-b8dce44acc50\x22,\x22deferOptions\x22\x3a\x7b\x22deferComponent\x22\x3afalse,\x22deferType\x22\x3a\x22None\x22,\x22deferId\x22\x3a\x22r3f771e9f4faa4f84bec3b05fd9224d37\x22,\x22deferredContainerId\x22\x3a\x22\x2factionToolbar\x22,\x22deferredContainerView\x22\x3anull\x7d,\x22viewName\x22\x3a\x22ActionToolbar\x22\x7d'); var configuration = {"toolbarSettings":{"id":"0062db4d-452e-4eba-af2d-b8dce44acc50","moreButtonText":"More","lessButtonText":"Less","regAction":"FAVORITE","eSourceCode":16797,"useModalRegistration":true,"namePassedToEvents":"RDPToolbarRAIL","buttons":[{"providerName":"pinterest","providerNamePassedToEvents":"Pinterest","privacyOptOut":false,"privacyOptOutMessage":"\u003cdiv class=\u0027privacyMessage\u0027\u003e\n\u003ch3\u003eThis feature is not available with your current cookie settings.\u003c/h3\u003e\n\u003cp\u003eYou can \u003ca href=\u0027#\u0027 data-show-preference-center=\u00271\u0027\u003eupdate your privacy settings\u003c/a\u003e to enable this content. Please enable "Functional Cookies" to use this feature.\u003c/p\u003e\n\u003c/div\u003e","shareUrlFormat":"//pinterest.com/pin/create/link/?url={0}","id":"58ba9650-477b-4abe-bb46-1a60912cc27c","allowedForAnonymousUsers":true,"type":"Social","displayName":"Pinterest","namePassedToEvents":"Pinterest"},{"layoutParameter":"p%3d1","id":"9440f541-1622-407b-a529-9cb1f48ddf3a","allowedForAnonymousUsers":true,"type":"Print","displayName":"Print","namePassedToEvents":"Print"},{"addFavoriteErrorMessage":"Sorry, something went wrong. Please save again.","removeFavoriteErrorMessage":"Error occurred while removing from favorites","regAction":"FAVORITE","eSourceCode":16797,"isCurrentUserAnonymous":true,"isFavoriteItem":false,"id":"a4fff957-6f0a-4e2f-820f-3f2cfbceef64","allowedForAnonymousUsers":false,"type":"Favorite","displayName":"Save","namePassedToEvents":"Favorite"},{"providerName":"facebook","providerNamePassedToEvents":"Facebook","privacyOptOut":false,"privacyOptOutMessage":"\u003cdiv class=\u0027privacyMessage\u0027\u003e\n\u003ch3\u003eThis feature is not available with your current cookie settings.\u003c/h3\u003e\n\u003cp\u003eYou can \u003ca href=\u0027#\u0027 data-show-preference-center=\u00271\u0027\u003eupdate your privacy settings\u003c/a\u003e to enable this content. Please enable "Functional Cookies" to use this feature.\u003c/p\u003e\n\u003c/div\u003e","shareUrlFormat":"//facebook.com/sharer/sharer.php?u={0}","id":"9e7892b7-5ea2-441b-ab66-55a566402b31","allowedForAnonymousUsers":true,"type":"Social","displayName":"Facebook","namePassedToEvents":"Facebook"},{"templateId":"49ea4ab1-767d-497f-8521-8956bf53ee30","dialogHeading":"Email Recipe","emailCode":"TBSP_ContentEmail","dialogSettings":{"cancelButtonText":"Cancel","copyToSenderLabel":"Send a Copy to Myself","emailAddressesLabel":"* Email Address(es)","emailInstructionText":"Separate email addresses with commas","fromText":"From:","privacyPolicyText":"\u003cp\u003e\u0026copy;2021 General Mills, Inc. All Rights Reserved. This information will only be used to send an email to your friend(s) and will not be saved. Please read our \u003ca rel=\u0022noopener noreferrer\u0022 rel=\u0022noopener noreferrer\u0022 href=\u0022http://www.generalmills.com/company/privacy-policies/privacy-policy-us\u0022 target=\u0022_blank\u0022 shape=\u0022rect\u0022\u003ePrivacy Policy\u003c/a\u003e.\u003c/p\u003e","requiredFieldText":"* Required","sendButtonText":"Send","senderEmailAddressLabel":"* Your Email Address","senderFirstNameLabel":"* Your First Name","sendToText":"Send To:"},"recaptchaPublicKey":"6LfW_icUAAAAAL_CG700pddUxLNYIxgRJe3vOg2Z","id":"c9d11c79-b5b2-4bf4-be97-50bf9b3a44dc","allowedForAnonymousUsers":true,"type":"Email","displayName":"Email","namePassedToEvents":"Email"}],"dialogSettings":{"cancelButtonText":"Cancel","copyToSenderLabel":"Send a Copy to Myself","emailAddressesLabel":"* Email Address(es)","emailInstructionText":"Separate email addresses with commas","fromText":"From:","privacyPolicyText":"\u003cp\u003e\u0026copy;2021 General Mills, Inc. All Rights Reserved. This information will only be used to send an email to your friend(s) and will not be saved. Please read our \u003ca rel=\u0022noopener noreferrer\u0022 rel=\u0022noopener noreferrer\u0022 href=\u0022http://www.generalmills.com/company/privacy-policies/privacy-policy-us\u0022 target=\u0022_blank\u0022 shape=\u0022rect\u0022\u003ePrivacy Policy\u003c/a\u003e.\u003c/p\u003e","requiredFieldText":"* Required","sendButtonText":"Send","senderEmailAddressLabel":"* Your Email Address","senderFirstNameLabel":"* Your First Name","sendToText":"Send To:"},"recaptchaPublicKey":"6LfW_icUAAAAAL_CG700pddUxLNYIxgRJe3vOg2Z","controlIds":{"toolbarId":"gmi_actionToolbar_0062db4d-452e-4eba-af2d-b8dce44acc50","moreButtonId":"gmi_actionToolbar_0062db4d-452e-4eba-af2d-b8dce44acc50_moreButton","moreButtonTextId":"gmi_actionToolbar_0062db4d-452e-4eba-af2d-b8dce44acc50_moreButtonText","collapsedButtonsId":"gmi_actionToolbar_0062db4d-452e-4eba-af2d-b8dce44acc50_collapsedButtons","secondaryButtonsId":"gmi_actionToolbar_0062db4d-452e-4eba-af2d-b8dce44acc50_secondaryButtons"}},"contentId":"bc4bcbf9-263e-410c-b4a4-fa383716e272","isCurrentUserAnonymous":true,"isFavoriteItem":false,"privacyOptOut":false,"shareCounts":{"social.pinterest":"0","print":"2","favorite":"0","social.facebook":"0","email":"0"},"pageAttributes":{"title":"Mango Sticky Rice","image":"https://images-gmi-pmc.edge-generalmills.com/4f75d4f3-395b-4f51-8ade-a1eedb4cd542.jpg","url":"http%3a%2f%2fwww.tablespoon.com%2frecipes%2fmango-sticky-rice%2fbc4bcbf9-263e-410c-b4a4-fa383716e272","contentType":"Recipe","contentId":"bc4bcbf9-263e-410c-b4a4-fa383716e272"}}; var moduleName = 'actionToolbar'; var isVueModule = true; GeneralMills.PandoSites.RegisterControlInstance(moduleName, configuration, componentMetadata, isVueModule) }); })();
Mango Sticky Rice
(function() { document.addEventListener('DOMContentLoaded', function() { var componentMetadata = JSON.parse('\x7b\x22componentName\x22\x3a\x22RatingAndReviewCounts_3f096167-8a59-43c4-961a-84f57d84be42\x22,\x22deferOptions\x22\x3a\x7b\x22deferComponent\x22\x3afalse,\x22deferType\x22\x3a\x22None\x22,\x22deferId\x22\x3a\x22r76dbf8577940414f8c236a4c7f400257\x22,\x22deferredContainerId\x22\x3a\x22\x2fmain\x2frdpRatingAndReview\x22,\x22deferredContainerView\x22\x3anull\x7d,\x22viewName\x22\x3a\x22RatingAndReviewCounts\x22\x7d'); var configuration = {}; var moduleName = 'ratingAndReviewCounts'; var isVueModule = false; GeneralMills.PandoSites.RegisterControlInstance(moduleName, configuration, componentMetadata, isVueModule) }); })();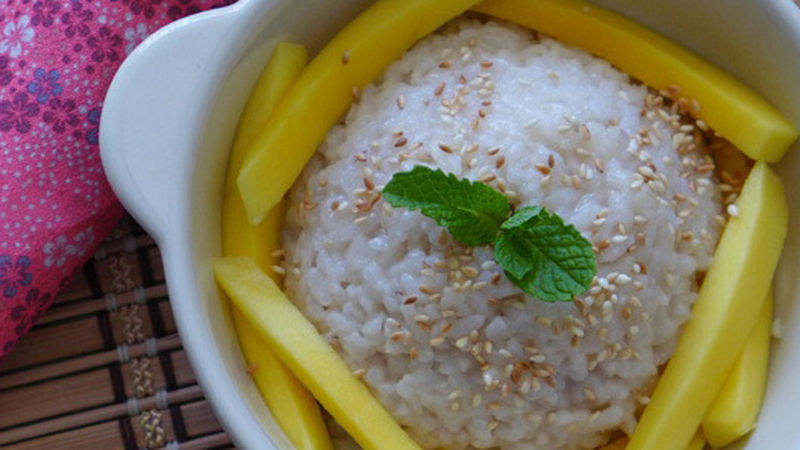 Prep

20

min

Total

40

min

Servings

2
Ingredients
1

cup uncooked short-grain rice

1

cup water

1/4

cup sesame seeds, toasted

1

cup coconut milk

1/4

teaspoon salt

3

tablespoons brown sugar

2

ripe mangoes, cut into strips

Mint leaves to garnish
Steps
(function() { document.addEventListener('DOMContentLoaded', function() { var componentMetadata = JSON.parse('\x7b\x22componentName\x22\x3a\x22WakeLock_3f096167-8a59-43c4-961a-84f57d84be42\x22,\x22deferOptions\x22\x3a\x7b\x22deferComponent\x22\x3atrue,\x22deferType\x22\x3a\x22OnDemand\x22,\x22deferId\x22\x3a\x22rd6a1282fdbbf4fd7a5d27c8778b3d7fa\x22,\x22deferredContainerId\x22\x3a\x22\x2fmain\x2frdpSteps\x2frdpWakeLock\x22,\x22deferredContainerView\x22\x3a\x22RecipeSteps\x22\x7d,\x22viewName\x22\x3a\x22WakeLock\x22\x7d'); var configuration = {"textAbove":"Prevent your screen from going dark while you cook.","timeoutDurationMs":3600000}; var moduleName = 'wakeLock'; var isVueModule = true; GeneralMills.PandoSites.RegisterControlInstance(moduleName, configuration, componentMetadata, isVueModule) }); })();
1

In a large bowl, soak rice for 1 hour. Drain and rinse thoroughly.

2

In a large saucepan, add 1 cup water and heat over medium heat. Place rice in a steamer and place it in saucepan. Close tightly and steam rice for 25 minutes. Place in a serving dish.

3

Heat sesame seeds on a medium pan over medium heat. Shake pan constantly until seeds turn golden brown and fragrant.

4

In a medium saucepan, heat coconut milk and let simmer, stirring constantly. Add salt and sugar. Remove from heat and add 3/4 of the coconut milk mixture to cooked rice.

5

To serve, place rice in individual bowls and spoon the rest of coconut milk mixture over rice. Garnish with mango strips, toasted sesame seeds and mint.
(function() { document.addEventListener('DOMContentLoaded', function() { var componentMetadata = JSON.parse('\x7b\x22componentName\x22\x3a\x22RecipeSteps_3f096167-8a59-43c4-961a-84f57d84be42\x22,\x22deferOptions\x22\x3a\x7b\x22deferComponent\x22\x3atrue,\x22deferType\x22\x3a\x22OnDemand\x22,\x22deferId\x22\x3a\x22r401f9c5f2de54459a3bcb2d3a0ebdb3c\x22,\x22deferredContainerId\x22\x3a\x22\x2fmain\x2frdpSteps\x2frdpWakeLock\x22,\x22deferredContainerView\x22\x3a\x22RecipeSteps\x22\x7d,\x22viewName\x22\x3a\x22RecipeSteps\x22\x7d'); var configuration = {"initAreImagesHidden":false,"hideImagesEventName":"HideStepShots","showImagesEventName":"ShowStepShots","hideImagesButtonText":"Hide Images","showImagesButtonText":"Show Images","hideImagesClass":"rdpHideStepImages"}; var moduleName = 'recipeStepShots'; var isVueModule = true; GeneralMills.PandoSites.RegisterControlInstance(moduleName, configuration, componentMetadata, isVueModule) }); })();
© 2021 ®/TM General Mills All Rights Reserved
(function() { document.addEventListener('DOMContentLoaded', function() { var componentMetadata = JSON.parse('\x7b\x22componentName\x22\x3a\x22DoubleClick_13a90c34-3b35-4860-9527-914a5e0ff91f\x22,\x22deferOptions\x22\x3a\x7b\x22deferComponent\x22\x3atrue,\x22deferType\x22\x3a\x22OnDemand\x22,\x22deferId\x22\x3a\x22r2a08bc4e3de0494c90c2fa2070e911d9\x22,\x22deferredContainerId\x22\x3a\x22\x2fmain\x2frdpFeatureAd\x22,\x22deferredContainerView\x22\x3a\x22DoubleClick\x22\x7d,\x22viewName\x22\x3a\x22DoubleClick\x22\x7d'); var configuration = {"adId":"OMP/tablespoon/recipes/300x250_AutoRefresh_top","minPageWidth":"1000","maxPageWidth":"9999","defaultMinPageWidth":"1000","defaultMaxPageWidth":"9999","enableLyticsIntegration":true,"lyticsWaitTimeThreshold":5000,"size":"[300, 250]","refreshWhenViewed":true,"adContainerId":"998c6358-75eb-4ff3-9413-cc04a8ae95df","doubleClickAdContainerId":"03109a61-7f2b-4ed1-bad5-4a669e261b63","adCaptionText":"Advertisement","networkCode":"/15704463/","relevantMetadata":["Dessert","Dinner"],"privacyOptOut":false}; var moduleName = 'doubleClick'; var isVueModule = true; GeneralMills.PandoSites.RegisterControlInstance(moduleName, configuration, componentMetadata, isVueModule) }); })();
(function() { document.addEventListener('DOMContentLoaded', function() { var componentMetadata = JSON.parse('\x7b\x22componentName\x22\x3a\x22DoubleClick_0cfeeadf-8841-41d0-bcd1-f69250cf0ac4\x22,\x22deferOptions\x22\x3a\x7b\x22deferComponent\x22\x3atrue,\x22deferType\x22\x3a\x22OnDemand\x22,\x22deferId\x22\x3a\x22r33819b721e4a45a6a58890286394bb61\x22,\x22deferredContainerId\x22\x3a\x22\x2fmain\x2frdpFeatureAd\x22,\x22deferredContainerView\x22\x3a\x22DoubleClick\x22\x7d,\x22viewName\x22\x3a\x22DoubleClick\x22\x7d'); var configuration = {"adId":"OMP/tablespoon/recipes/728x90_top","minPageWidth":"768","maxPageWidth":"999","defaultMinPageWidth":"1000","defaultMaxPageWidth":"9999","enableLyticsIntegration":true,"lyticsWaitTimeThreshold":5000,"size":"[728, 90]","refreshWhenViewed":false,"adContainerId":"90f6d177-a918-4cfc-8c15-d8bbfd0e14b0","doubleClickAdContainerId":"5d8324c5-3e79-4f69-97f6-1e0a0278268b","adCaptionText":"Advertisement","networkCode":"/15704463/","relevantMetadata":["Dessert","Dinner"],"privacyOptOut":false}; var moduleName = 'doubleClick'; var isVueModule = true; GeneralMills.PandoSites.RegisterControlInstance(moduleName, configuration, componentMetadata, isVueModule) }); })();
(function() { document.addEventListener('DOMContentLoaded', function() { var componentMetadata = JSON.parse('\x7b\x22componentName\x22\x3a\x22DoubleClick_3b053ad7-affc-4295-9966-00f47602a6b3\x22,\x22deferOptions\x22\x3a\x7b\x22deferComponent\x22\x3atrue,\x22deferType\x22\x3a\x22OnDemand\x22,\x22deferId\x22\x3a\x22r88d222e80e7442caa48ca9ff9575faea\x22,\x22deferredContainerId\x22\x3a\x22\x2fmain\x2frdpFeatureAd\x22,\x22deferredContainerView\x22\x3a\x22DoubleClick\x22\x7d,\x22viewName\x22\x3a\x22DoubleClick\x22\x7d'); var configuration = {"adId":"OMP/m_tablespoon/recipes/300x250_top","minPageWidth":"299","maxPageWidth":"767","defaultMinPageWidth":"1000","defaultMaxPageWidth":"9999","enableLyticsIntegration":true,"lyticsWaitTimeThreshold":5000,"size":"[[300,250], [300,600]]","refreshWhenViewed":false,"adContainerId":"e4fc624d-6129-4d94-baa0-6524dbb104be","doubleClickAdContainerId":"d7afb438-4dd5-4ad5-9e80-68d2251a6651","adCaptionText":"Advertisement","networkCode":"/15704463/","relevantMetadata":["Dessert","Dinner"],"privacyOptOut":false}; var moduleName = 'doubleClick'; var isVueModule = true; GeneralMills.PandoSites.RegisterControlInstance(moduleName, configuration, componentMetadata, isVueModule) }); })();
(function() { document.addEventListener('DOMContentLoaded', function() { var componentMetadata = JSON.parse('\x7b\x22componentName\x22\x3a\x22RelatedContent_830a2de7-a19e-4fec-b276-74469a451a3f\x22,\x22deferOptions\x22\x3a\x7b\x22deferComponent\x22\x3atrue,\x22deferType\x22\x3a\x22OnDemand\x22,\x22deferId\x22\x3a\x22r26606ac23cc646e0a88634380c1b1a2e\x22,\x22deferredContainerId\x22\x3a\x22\x2fmain\x2frdpRelatedContent2\x22,\x22deferredContainerView\x22\x3a\x22RecipeDetail\x22\x7d,\x22viewName\x22\x3a\x22RelatedContent\x22\x7d'); var configuration = {}; var moduleName = 'relatedContent'; var isVueModule = true; GeneralMills.PandoSites.RegisterControlInstance(moduleName, configuration, componentMetadata, isVueModule) }); })();
(function() { document.addEventListener('DOMContentLoaded', function() { var componentMetadata = JSON.parse('\x7b\x22componentName\x22\x3a\x22RelatedContent_6baa3312-5bf3-4b63-aa78-22158dc96112\x22,\x22deferOptions\x22\x3a\x7b\x22deferComponent\x22\x3atrue,\x22deferType\x22\x3a\x22OnDemand\x22,\x22deferId\x22\x3a\x22rc832df8e067c4b5096fda89d6530560b\x22,\x22deferredContainerId\x22\x3a\x22\x2fmain\x2frdpRelatedContent1\x22,\x22deferredContainerView\x22\x3a\x22RecipeDetail\x22\x7d,\x22viewName\x22\x3a\x22RelatedContent\x22\x7d'); var configuration = {}; var moduleName = 'relatedContent'; var isVueModule = true; GeneralMills.PandoSites.RegisterControlInstance(moduleName, configuration, componentMetadata, isVueModule) }); })();
(function() { document.addEventListener('DOMContentLoaded', function() { var componentMetadata = JSON.parse('\x7b\x22componentName\x22\x3a\x22ConsumerGeneratedContent_3f096167-8a59-43c4-961a-84f57d84be42\x22,\x22deferOptions\x22\x3a\x7b\x22deferComponent\x22\x3atrue,\x22deferType\x22\x3a\x22OnDemand\x22,\x22deferId\x22\x3a\x22r27887087e6d34d4fb93c1a9ee3ba133f\x22,\x22deferredContainerId\x22\x3a\x22\x2fmain\x2frdpCgc\x22,\x22deferredContainerView\x22\x3a\x22RecipeDetail\x22\x7d,\x22viewName\x22\x3a\x22ConsumerGeneratedContent\x22\x7d'); var configuration = {"loaderScript":"https://apps.bazaarvoice.com/deployments/tablespoon/main_site/production/en_US/bv.js","type":"RatingAndReview","language":"en","isEmailRequired":true,"isScreenNameRequired":true,"includeRatings":true}; var moduleName = 'consumerGeneratedContent'; var isVueModule = true; GeneralMills.PandoSites.RegisterControlInstance(moduleName, configuration, componentMetadata, isVueModule) }); })();
(function() { document.addEventListener('DOMContentLoaded', function() { var componentMetadata = JSON.parse('\x7b\x22componentName\x22\x3a\x22ThirdPartyScript_df19a63c-4926-4b53-b250-0ff85ad38ea5\x22,\x22deferOptions\x22\x3a\x7b\x22deferComponent\x22\x3atrue,\x22deferType\x22\x3a\x22OnDemand\x22,\x22deferId\x22\x3a\x22r2a6c23ed7a964963b98054190a981801\x22,\x22deferredContainerId\x22\x3a\x22\x2fmain\x2frdpZergnet1\x22,\x22deferredContainerView\x22\x3a\x22ThirdPartyScript\x22\x7d,\x22viewName\x22\x3a\x22ThirdPartyScript\x22\x7d'); var configuration = {"placeholderName":"rdpZergnet1","domContent":"\u003cdiv id=\u0022external-content-container-49056\u0022\u003e\u003cdiv id=\u0022zergnet-widget-49056\u0022\u003e\u003c/div\u003e\u003c/div\u003e","scriptContent":"//www.zergnet.com/zerg.js?id=49056"}; var moduleName = 'thirdPartyScript'; var isVueModule = true; GeneralMills.PandoSites.RegisterControlInstance(moduleName, configuration, componentMetadata, isVueModule) }); })();
(function() { document.addEventListener('DOMContentLoaded', function() { var componentMetadata = JSON.parse('\x7b\x22componentName\x22\x3a\x22DoubleClick_17402628-f426-4216-8cb2-527bbb85a1a4\x22,\x22deferOptions\x22\x3a\x7b\x22deferComponent\x22\x3atrue,\x22deferType\x22\x3a\x22OnDemand\x22,\x22deferId\x22\x3a\x22rbd10ddc5bdac41df8172697f2af3f240\x22,\x22deferredContainerId\x22\x3a\x22\x2fmain\x2frdpSecondaryAd\x22,\x22deferredContainerView\x22\x3a\x22DoubleClick\x22\x7d,\x22viewName\x22\x3a\x22DoubleClick\x22\x7d'); var configuration = {"adId":"OMP/tablespoon/recipes/300x250_bottom","minPageWidth":"1000","maxPageWidth":"9999","defaultMinPageWidth":"1000","defaultMaxPageWidth":"9999","enableLyticsIntegration":true,"lyticsWaitTimeThreshold":5000,"size":"[[300,600],[300,250]]","refreshWhenViewed":false,"adContainerId":"3d3f1fdd-c277-4462-b709-844f1cb3bf92","doubleClickAdContainerId":"96c373fe-ee90-404f-9b63-6764babcffc4","adCaptionText":"Advertisement","networkCode":"/15704463/","relevantMetadata":["Dessert","Dinner"],"privacyOptOut":false}; var moduleName = 'doubleClick'; var isVueModule = true; GeneralMills.PandoSites.RegisterControlInstance(moduleName, configuration, componentMetadata, isVueModule) }); })();
(function() { document.addEventListener('DOMContentLoaded', function() { var componentMetadata = JSON.parse('\x7b\x22componentName\x22\x3a\x22DoubleClick_08734287-0e98-4513-a9ae-d4ed8fcc090d\x22,\x22deferOptions\x22\x3a\x7b\x22deferComponent\x22\x3atrue,\x22deferType\x22\x3a\x22OnDemand\x22,\x22deferId\x22\x3a\x22r30052c85561f41b28ef53bc3a47159dc\x22,\x22deferredContainerId\x22\x3a\x22\x2fmain\x2frdpSecondaryAd\x22,\x22deferredContainerView\x22\x3a\x22DoubleClick\x22\x7d,\x22viewName\x22\x3a\x22DoubleClick\x22\x7d'); var configuration = {"adId":"OMP/tablespoon/recipes/728x90_bottom","minPageWidth":"768","maxPageWidth":"999","defaultMinPageWidth":"1000","defaultMaxPageWidth":"9999","enableLyticsIntegration":true,"lyticsWaitTimeThreshold":5000,"size":"[728, 90]","refreshWhenViewed":false,"adContainerId":"620a56aa-3d06-47a1-8fbd-98f3a556df11","doubleClickAdContainerId":"69b93fac-c8a4-4698-823b-29c7aaa78538","adCaptionText":"Advertisement","networkCode":"/15704463/","relevantMetadata":["Dessert","Dinner"],"privacyOptOut":false}; var moduleName = 'doubleClick'; var isVueModule = true; GeneralMills.PandoSites.RegisterControlInstance(moduleName, configuration, componentMetadata, isVueModule) }); })();
(function() { document.addEventListener('DOMContentLoaded', function() { var componentMetadata = JSON.parse('\x7b\x22componentName\x22\x3a\x22DoubleClick_147e3d6b-a87a-4ebe-b45b-4661cb73be28\x22,\x22deferOptions\x22\x3a\x7b\x22deferComponent\x22\x3atrue,\x22deferType\x22\x3a\x22OnDemand\x22,\x22deferId\x22\x3a\x22r41ce7849e28741b4975394c7c29b291f\x22,\x22deferredContainerId\x22\x3a\x22\x2fmain\x2frdpSecondaryAd\x22,\x22deferredContainerView\x22\x3a\x22DoubleClick\x22\x7d,\x22viewName\x22\x3a\x22DoubleClick\x22\x7d'); var configuration = {"adId":"OMP/m_tablespoon/recipes/300x250_bottom","minPageWidth":"299","maxPageWidth":"767","defaultMinPageWidth":"1000","defaultMaxPageWidth":"9999","enableLyticsIntegration":true,"lyticsWaitTimeThreshold":5000,"size":"[[300,250], [300,600]]","refreshWhenViewed":false,"adContainerId":"b4e2bf8f-c01b-4b4b-ad9b-5b732da3f3b2","doubleClickAdContainerId":"71890e84-4602-4f5d-a47f-d695c888e5bd","adCaptionText":"Advertisement","networkCode":"/15704463/","relevantMetadata":["Dessert","Dinner"],"privacyOptOut":false}; var moduleName = 'doubleClick'; var isVueModule = true; GeneralMills.PandoSites.RegisterControlInstance(moduleName, configuration, componentMetadata, isVueModule) }); })();
(function() { document.addEventListener('DOMContentLoaded', function() { var componentMetadata = JSON.parse('\x7b\x22componentName\x22\x3a\x22ThirdPartyScript_5705100e-e2a8-4487-9eeb-b94536d45d71\x22,\x22deferOptions\x22\x3a\x7b\x22deferComponent\x22\x3atrue,\x22deferType\x22\x3a\x22OnDemand\x22,\x22deferId\x22\x3a\x22r18d1b96474954c80b0651e871f3bf57c\x22,\x22deferredContainerId\x22\x3a\x22\x2fmain\x2frdpSecondaryAd\x22,\x22deferredContainerView\x22\x3a\x22ThirdPartyScript\x22\x7d,\x22viewName\x22\x3a\x22ThirdPartyScript\x22\x7d'); var configuration = {"placeholderName":"rdpSecondaryAd","domContent":"\u003cdiv id=\u0022ntvoAdSpot\u0022 style=\u0022height:20px;margin-bottom:-20px;\u0022\u003e   \u003c/div\u003e","scriptContent":"//s.ntv.io/serve/load.js"}; var moduleName = 'thirdPartyScript'; var isVueModule = true; GeneralMills.PandoSites.RegisterControlInstance(moduleName, configuration, componentMetadata, isVueModule) }); })();
(function() { document.addEventListener('DOMContentLoaded', function() { var componentMetadata = JSON.parse('\x7b\x22componentName\x22\x3a\x22DoubleClick_a64e89d5-b3d5-45ea-8f7e-3efb4a0c90ce\x22,\x22deferOptions\x22\x3a\x7b\x22deferComponent\x22\x3atrue,\x22deferType\x22\x3a\x22OnDemand\x22,\x22deferId\x22\x3a\x22rd157489feba64e9d96c0168ad75733d3\x22,\x22deferredContainerId\x22\x3a\x22\x2fmain\x2frdpTernaryAd\x22,\x22deferredContainerView\x22\x3a\x22DoubleClick\x22\x7d,\x22viewName\x22\x3a\x22DoubleClick\x22\x7d'); var configuration = {"adId":"OMP/tablespoon/recipes/300x250_bottom2","minPageWidth":"1000","maxPageWidth":"9999","defaultMinPageWidth":"1000","defaultMaxPageWidth":"9999","enableLyticsIntegration":true,"lyticsWaitTimeThreshold":5000,"size":"[[300,600],[300,250]]","refreshWhenViewed":false,"adContainerId":"79fef7bc-d173-4f5a-8d6c-bdd272543c3e","doubleClickAdContainerId":"d76e7234-ca19-49ac-ab04-94a0b3f461c9","adCaptionText":"Advertisement","networkCode":"/15704463/","relevantMetadata":["Dessert","Dinner"],"privacyOptOut":false}; var moduleName = 'doubleClick'; var isVueModule = true; GeneralMills.PandoSites.RegisterControlInstance(moduleName, configuration, componentMetadata, isVueModule) }); })();
(function() { document.addEventListener('DOMContentLoaded', function() { var componentMetadata = JSON.parse('\x7b\x22componentName\x22\x3a\x22DoubleClick_a64e89d5-b3d5-45ea-8f7e-3efb4a0c90ce\x22,\x22deferOptions\x22\x3a\x7b\x22deferComponent\x22\x3atrue,\x22deferType\x22\x3a\x22OnDemand\x22,\x22deferId\x22\x3a\x22r7aa855b5824a4bad90cc1a5081978cce\x22,\x22deferredContainerId\x22\x3a\x22\x2fmain\x2frdpTernaryAd\x22,\x22deferredContainerView\x22\x3a\x22DoubleClick\x22\x7d,\x22viewName\x22\x3a\x22DoubleClick\x22\x7d'); var configuration = {"adId":"OMP/tablespoon/recipes/300x250_bottom2","minPageWidth":"1000","maxPageWidth":"9999","defaultMinPageWidth":"1000","defaultMaxPageWidth":"9999","enableLyticsIntegration":true,"lyticsWaitTimeThreshold":5000,"size":"[[300,600],[300,250]]","refreshWhenViewed":false,"adContainerId":"d7fe4129-3dc2-4798-b1a2-e815b83991f2","doubleClickAdContainerId":"aca2f1b8-835c-4711-9ee3-ecc598bdf324","adCaptionText":"Advertisement","networkCode":"/15704463/","relevantMetadata":["Dessert","Dinner"],"privacyOptOut":false}; var moduleName = 'doubleClick'; var isVueModule = true; GeneralMills.PandoSites.RegisterControlInstance(moduleName, configuration, componentMetadata, isVueModule) }); })();