Pinterest

Print

Save

Facebook

Email
(function() { document.addEventListener('DOMContentLoaded', function() { var componentMetadata = JSON.parse('\x7b\x22componentName\x22\x3a\x22ActionToolbar_0062db4d-452e-4eba-af2d-b8dce44acc50\x22,\x22deferOptions\x22\x3a\x7b\x22deferComponent\x22\x3afalse,\x22deferType\x22\x3a\x22None\x22,\x22deferId\x22\x3a\x22r386b249f008643f7a4562510564ecc5c\x22,\x22deferredContainerId\x22\x3a\x22\x2factionToolbar\x22,\x22deferredContainerView\x22\x3anull\x7d,\x22viewName\x22\x3a\x22ActionToolbar\x22\x7d'); var configuration = {"toolbarSettings":{"id":"0062db4d-452e-4eba-af2d-b8dce44acc50","moreButtonText":"More","lessButtonText":"Less","regAction":"FAVORITE","eSourceCode":16797,"useModalRegistration":true,"namePassedToEvents":"RDPToolbarRAIL","buttons":[{"providerName":"pinterest","providerNamePassedToEvents":"Pinterest","gigyaApiKey":"3_5BrqfqXgyocVYmBLwZCdksCFGG0U-QsEwrfWpcDac7PvSwvoVlF0htCqK-WO5XeN","privacyOptOut":false,"privacyOptOutMessage":"\u003cdiv class=\u0027privacyMessage\u0027\u003e\n\u003ch3\u003eThis feature is not available with your current cookie settings.\u003c/h3\u003e\n\u003cp\u003eYou can \u003ca href=\u0027#\u0027 data-show-preference-center=\u00271\u0027\u003eupdate your privacy settings\u003c/a\u003e to enable this content. Please enable "Functional Cookies" to use this feature.\u003c/p\u003e\n\u003c/div\u003e","shareUrlFormat":"//pinterest.com/pin/create/link/?url={0}","id":"58ba9650-477b-4abe-bb46-1a60912cc27c","allowedForAnonymousUsers":true,"type":"Social","displayName":"Pinterest","namePassedToEvents":"Pinterest"},{"layoutParameter":"p%3d1","id":"9440f541-1622-407b-a529-9cb1f48ddf3a","allowedForAnonymousUsers":true,"type":"Print","displayName":"Print","namePassedToEvents":"Print"},{"addFavoriteErrorMessage":"Sorry, something went wrong. Please save again.","removeFavoriteErrorMessage":"Error occurred while removing from favorites","regAction":"FAVORITE","eSourceCode":16797,"isCurrentUserAnonymous":true,"isFavoriteItem":false,"id":"a4fff957-6f0a-4e2f-820f-3f2cfbceef64","allowedForAnonymousUsers":false,"type":"Favorite","displayName":"Save","namePassedToEvents":"Favorite"},{"providerName":"facebook","providerNamePassedToEvents":"Facebook","gigyaApiKey":"3_5BrqfqXgyocVYmBLwZCdksCFGG0U-QsEwrfWpcDac7PvSwvoVlF0htCqK-WO5XeN","privacyOptOut":false,"privacyOptOutMessage":"\u003cdiv class=\u0027privacyMessage\u0027\u003e\n\u003ch3\u003eThis feature is not available with your current cookie settings.\u003c/h3\u003e\n\u003cp\u003eYou can \u003ca href=\u0027#\u0027 data-show-preference-center=\u00271\u0027\u003eupdate your privacy settings\u003c/a\u003e to enable this content. Please enable "Functional Cookies" to use this feature.\u003c/p\u003e\n\u003c/div\u003e","shareUrlFormat":"//facebook.com/sharer/sharer.php?u={0}","id":"9e7892b7-5ea2-441b-ab66-55a566402b31","allowedForAnonymousUsers":true,"type":"Social","displayName":"Facebook","namePassedToEvents":"Facebook"},{"templateId":"49ea4ab1-767d-497f-8521-8956bf53ee30","dialogHeading":"Email Recipe","emailCode":"TBSP_ContentEmail","dialogSettings":{"cancelButtonText":"Cancel","copyToSenderLabel":"Send a Copy to Myself","emailAddressesLabel":"* Email Address(es)","emailInstructionText":"Separate email addresses with commas","fromText":"From:","privacyPolicyText":"\u003cp\u003e\u0026copy;2020 General Mills, Inc. All Rights Reserved. This information will only be used to send an email to your friend(s) and will not be saved. Please read our \u003ca rel=\u0022noopener noreferrer\u0022 rel=\u0022noopener noreferrer\u0022 href=\u0022http://www.generalmills.com/company/privacy-policies/privacy-policy-us\u0022 target=\u0022_blank\u0022 shape=\u0022rect\u0022\u003ePrivacy Policy\u003c/a\u003e.\u003c/p\u003e","requiredFieldText":"* Required","sendButtonText":"Send","senderEmailAddressLabel":"* Your Email Address","senderFirstNameLabel":"* Your First Name","sendToText":"Send To:"},"recaptchaPublicKey":"6LfW_icUAAAAAL_CG700pddUxLNYIxgRJe3vOg2Z","id":"c9d11c79-b5b2-4bf4-be97-50bf9b3a44dc","allowedForAnonymousUsers":true,"type":"Email","displayName":"Email","namePassedToEvents":"Email"}],"dialogSettings":{"cancelButtonText":"Cancel","copyToSenderLabel":"Send a Copy to Myself","emailAddressesLabel":"* Email Address(es)","emailInstructionText":"Separate email addresses with commas","fromText":"From:","privacyPolicyText":"\u003cp\u003e\u0026copy;2020 General Mills, Inc. All Rights Reserved. This information will only be used to send an email to your friend(s) and will not be saved. Please read our \u003ca rel=\u0022noopener noreferrer\u0022 rel=\u0022noopener noreferrer\u0022 href=\u0022http://www.generalmills.com/company/privacy-policies/privacy-policy-us\u0022 target=\u0022_blank\u0022 shape=\u0022rect\u0022\u003ePrivacy Policy\u003c/a\u003e.\u003c/p\u003e","requiredFieldText":"* Required","sendButtonText":"Send","senderEmailAddressLabel":"* Your Email Address","senderFirstNameLabel":"* Your First Name","sendToText":"Send To:"},"controlIds":{"toolbarId":"gmi_actionToolbar_0062db4d-452e-4eba-af2d-b8dce44acc50","moreButtonId":"gmi_actionToolbar_0062db4d-452e-4eba-af2d-b8dce44acc50_moreButton","moreButtonTextId":"gmi_actionToolbar_0062db4d-452e-4eba-af2d-b8dce44acc50_moreButtonText","collapsedButtonsId":"gmi_actionToolbar_0062db4d-452e-4eba-af2d-b8dce44acc50_collapsedButtons","secondaryButtonsId":"gmi_actionToolbar_0062db4d-452e-4eba-af2d-b8dce44acc50_secondaryButtons"}},"contentId":"9cb89654-a0e7-4769-ba3b-5a3d1cfda8c9","isCurrentUserAnonymous":true,"isFavoriteItem":false,"privacyOptOut":false,"shareCounts":{"social.pinterest":"1","print":"1","favorite":"0","social.facebook":"0","email":"0"},"pageAttributes":{"title":"Cuban Picadillo-Stuffed Red Bell Peppers","image":"https://images-gmi-pmc.edge-generalmills.com/a0a6717a-c851-4bcf-858d-4f90ba224605.jpg","url":"http%3a%2f%2fwww.tablespoon.com%2frecipes%2fcuban-picadillo-stuffed-red-bell-peppers%2f9cb89654-a0e7-4769-ba3b-5a3d1cfda8c9","contentType":"Recipe","contentId":"9cb89654-a0e7-4769-ba3b-5a3d1cfda8c9"}}; var moduleName = 'actionToolbar'; var isVueModule = true; GeneralMills.PandoSites.RegisterControlInstance(moduleName, configuration, componentMetadata, isVueModule) }); })();
Cuban Picadillo-Stuffed Red Bell Peppers
(function() { document.addEventListener('DOMContentLoaded', function() { var componentMetadata = JSON.parse('\x7b\x22componentName\x22\x3a\x22RatingAndReviewCounts_3f096167-8a59-43c4-961a-84f57d84be42\x22,\x22deferOptions\x22\x3a\x7b\x22deferComponent\x22\x3afalse,\x22deferType\x22\x3a\x22None\x22,\x22deferId\x22\x3a\x22rf29aefae473948349e87de999eec1e02\x22,\x22deferredContainerId\x22\x3a\x22\x2fmain\x2frdpRatingAndReview\x22,\x22deferredContainerView\x22\x3anull\x7d,\x22viewName\x22\x3a\x22RatingAndReviewCounts\x22\x7d'); var configuration = {}; var moduleName = 'ratingAndReviewCounts'; var isVueModule = false; GeneralMills.PandoSites.RegisterControlInstance(moduleName, configuration, componentMetadata, isVueModule) }); })();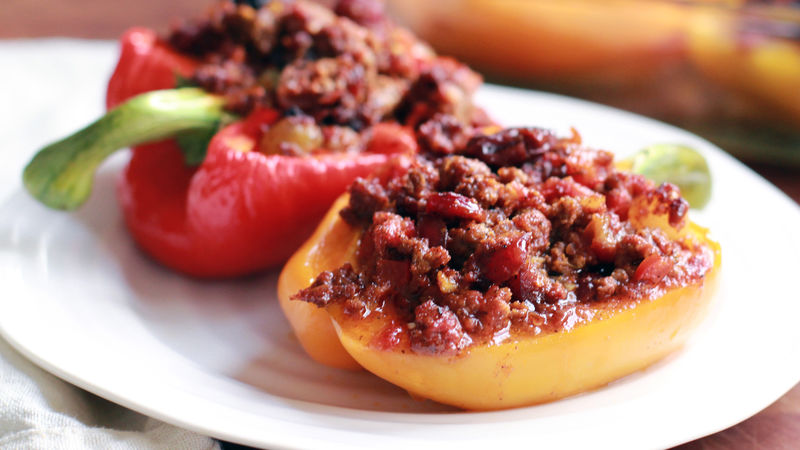 Prep

15

min

Total

45

min

Servings

5
Ingredients
3

red bell peppers

1

tablespoon extra-virgin olive oil

1/2

sweet onion, diced

1

lb ground beef

16

oz can tomato, diced

1/2

cup raisins

4

cloves garlic, finely chopped

1

teaspoon dried oregano

1

package sazón seasoning mix with saffron

1-2 bay leaves

1/2

teaspoon salt

Pepper, to taste

8

oz can tomato sauce

1/2

cup dry white wine
Steps
(function() { document.addEventListener('DOMContentLoaded', function() { var componentMetadata = JSON.parse('\x7b\x22componentName\x22\x3a\x22WakeLock_3f096167-8a59-43c4-961a-84f57d84be42\x22,\x22deferOptions\x22\x3a\x7b\x22deferComponent\x22\x3atrue,\x22deferType\x22\x3a\x22OnDemand\x22,\x22deferId\x22\x3a\x22r25982d0e82cd4039b281544fdd8114f3\x22,\x22deferredContainerId\x22\x3a\x22\x2fmain\x2frdpSteps\x2frdpWakeLock\x22,\x22deferredContainerView\x22\x3a\x22RecipeSteps\x22\x7d,\x22viewName\x22\x3a\x22WakeLock\x22\x7d'); var configuration = {"textAbove":"Prevent your screen from going dark while you cook.","timeoutDurationMs":3600000}; var moduleName = 'wakeLock'; var isVueModule = true; GeneralMills.PandoSites.RegisterControlInstance(moduleName, configuration, componentMetadata, isVueModule) }); })();
1

Preheat oven to 375°F.

2

Cut bell peppers in half and deseed, leaving stems for an authentic presentation. Chop one half for the picadillo mixture, reserving the rest for filling.

3

In a large pan, heat the oil over low to medium heat and cook onions until translucent. Add chopped bell pepper and continue to sauté. Add beef and brown, draining excessive fat if necessary. Add diced tomatoes, raisins, garlic, and seasonings, mixing well to incorporate all the flavors.

4

Once moisture begins to cook out, add tomato sauce and wine, scraping bits of flavor off the bottom of the pan. Add water, only if necessary, and let simmer for 10 minutes.

5

Line bell pepper halves in baking dish and gently fill each one with picadillo mixture.

6

Add 1/4 cup of water to baking dish and cook for 30-40 minutes or until peppers are tender.

7

Serve and enjoy!
(function() { document.addEventListener('DOMContentLoaded', function() { var componentMetadata = JSON.parse('\x7b\x22componentName\x22\x3a\x22RecipeSteps_3f096167-8a59-43c4-961a-84f57d84be42\x22,\x22deferOptions\x22\x3a\x7b\x22deferComponent\x22\x3atrue,\x22deferType\x22\x3a\x22OnDemand\x22,\x22deferId\x22\x3a\x22r495e86e7acde4347b89bf12f48316427\x22,\x22deferredContainerId\x22\x3a\x22\x2fmain\x2frdpSteps\x2frdpWakeLock\x22,\x22deferredContainerView\x22\x3a\x22RecipeSteps\x22\x7d,\x22viewName\x22\x3a\x22RecipeSteps\x22\x7d'); var configuration = {"initAreImagesHidden":false,"hideImagesEventName":"HideStepShots","showImagesEventName":"ShowStepShots","hideImagesButtonText":"Hide Images","showImagesButtonText":"Show Images","hideImagesClass":"rdpHideStepImages"}; var moduleName = 'recipeStepShots'; var isVueModule = true; GeneralMills.PandoSites.RegisterControlInstance(moduleName, configuration, componentMetadata, isVueModule) }); })();
© 2020 ®/TM General Mills All Rights Reserved
(function() { document.addEventListener('DOMContentLoaded', function() { var componentMetadata = JSON.parse('\x7b\x22componentName\x22\x3a\x22DoubleClick_13a90c34-3b35-4860-9527-914a5e0ff91f\x22,\x22deferOptions\x22\x3a\x7b\x22deferComponent\x22\x3atrue,\x22deferType\x22\x3a\x22OnDemand\x22,\x22deferId\x22\x3a\x22r71a7006f533b4d9c8c7cd7a6b40da9e8\x22,\x22deferredContainerId\x22\x3a\x22\x2fmain\x2frdpFeatureAd\x22,\x22deferredContainerView\x22\x3a\x22DoubleClick\x22\x7d,\x22viewName\x22\x3a\x22DoubleClick\x22\x7d'); var configuration = {"adId":"OMP/tablespoon/recipes/300x250_AutoRefresh_top","minPageWidth":"1000","maxPageWidth":"9999","defaultMinPageWidth":"1000","defaultMaxPageWidth":"9999","enableLyticsIntegration":true,"lyticsWaitTimeThreshold":5000,"size":"[300, 250]","refreshWhenViewed":true,"adContainerId":"04ea47e5-c2fc-406a-a96d-c9665ff8e8c2","doubleClickAdContainerId":"b9036020-57ec-48df-8580-1d59b3e0d0fc","adCaptionText":"Advertisement","networkCode":"/15704463/","relevantMetadata":["Dinner","Beef"],"privacyOptOut":false}; var moduleName = 'doubleClick'; var isVueModule = true; GeneralMills.PandoSites.RegisterControlInstance(moduleName, configuration, componentMetadata, isVueModule) }); })();
(function() { document.addEventListener('DOMContentLoaded', function() { var componentMetadata = JSON.parse('\x7b\x22componentName\x22\x3a\x22DoubleClick_0cfeeadf-8841-41d0-bcd1-f69250cf0ac4\x22,\x22deferOptions\x22\x3a\x7b\x22deferComponent\x22\x3atrue,\x22deferType\x22\x3a\x22OnDemand\x22,\x22deferId\x22\x3a\x22re3fa1439f9934e758c76765e1e13f210\x22,\x22deferredContainerId\x22\x3a\x22\x2fmain\x2frdpFeatureAd\x22,\x22deferredContainerView\x22\x3a\x22DoubleClick\x22\x7d,\x22viewName\x22\x3a\x22DoubleClick\x22\x7d'); var configuration = {"adId":"OMP/tablespoon/recipes/728x90_top","minPageWidth":"768","maxPageWidth":"999","defaultMinPageWidth":"1000","defaultMaxPageWidth":"9999","enableLyticsIntegration":true,"lyticsWaitTimeThreshold":5000,"size":"[728, 90]","refreshWhenViewed":false,"adContainerId":"efc13cc3-11bc-4676-b78b-ea631f663b63","doubleClickAdContainerId":"adf40c99-26f0-4c63-b242-5645f983182d","adCaptionText":"Advertisement","networkCode":"/15704463/","relevantMetadata":["Dinner","Beef"],"privacyOptOut":false}; var moduleName = 'doubleClick'; var isVueModule = true; GeneralMills.PandoSites.RegisterControlInstance(moduleName, configuration, componentMetadata, isVueModule) }); })();
(function() { document.addEventListener('DOMContentLoaded', function() { var componentMetadata = JSON.parse('\x7b\x22componentName\x22\x3a\x22DoubleClick_3b053ad7-affc-4295-9966-00f47602a6b3\x22,\x22deferOptions\x22\x3a\x7b\x22deferComponent\x22\x3atrue,\x22deferType\x22\x3a\x22OnDemand\x22,\x22deferId\x22\x3a\x22rcdcca2d89e7b4720b1cd2dbb0604a0ea\x22,\x22deferredContainerId\x22\x3a\x22\x2fmain\x2frdpFeatureAd\x22,\x22deferredContainerView\x22\x3a\x22DoubleClick\x22\x7d,\x22viewName\x22\x3a\x22DoubleClick\x22\x7d'); var configuration = {"adId":"OMP/m_tablespoon/recipes/300x250_top","minPageWidth":"299","maxPageWidth":"767","defaultMinPageWidth":"1000","defaultMaxPageWidth":"9999","enableLyticsIntegration":true,"lyticsWaitTimeThreshold":5000,"size":"[[300,250], [300,600]]","refreshWhenViewed":false,"adContainerId":"4e28e662-cdd2-4912-8d1b-c2774b020e56","doubleClickAdContainerId":"6f33a604-7aaf-4c80-80c4-c1f5aef16b0e","adCaptionText":"Advertisement","networkCode":"/15704463/","relevantMetadata":["Dinner","Beef"],"privacyOptOut":false}; var moduleName = 'doubleClick'; var isVueModule = true; GeneralMills.PandoSites.RegisterControlInstance(moduleName, configuration, componentMetadata, isVueModule) }); })();
(function() { document.addEventListener('DOMContentLoaded', function() { var componentMetadata = JSON.parse('\x7b\x22componentName\x22\x3a\x22RelatedContent_830a2de7-a19e-4fec-b276-74469a451a3f\x22,\x22deferOptions\x22\x3a\x7b\x22deferComponent\x22\x3atrue,\x22deferType\x22\x3a\x22OnDemand\x22,\x22deferId\x22\x3a\x22r702a4bc1c0fb4483821038c188fe8ca8\x22,\x22deferredContainerId\x22\x3a\x22\x2fmain\x2frdpRelatedContent2\x22,\x22deferredContainerView\x22\x3a\x22RecipeDetail\x22\x7d,\x22viewName\x22\x3a\x22RelatedContent\x22\x7d'); var configuration = {}; var moduleName = 'relatedContent'; var isVueModule = true; GeneralMills.PandoSites.RegisterControlInstance(moduleName, configuration, componentMetadata, isVueModule) }); })();
(function() { document.addEventListener('DOMContentLoaded', function() { var componentMetadata = JSON.parse('\x7b\x22componentName\x22\x3a\x22RelatedContent_6baa3312-5bf3-4b63-aa78-22158dc96112\x22,\x22deferOptions\x22\x3a\x7b\x22deferComponent\x22\x3atrue,\x22deferType\x22\x3a\x22OnDemand\x22,\x22deferId\x22\x3a\x22rccb7dea93c4c4e74bb1299fbddc01b02\x22,\x22deferredContainerId\x22\x3a\x22\x2fmain\x2frdpRelatedContent1\x22,\x22deferredContainerView\x22\x3a\x22RecipeDetail\x22\x7d,\x22viewName\x22\x3a\x22RelatedContent\x22\x7d'); var configuration = {}; var moduleName = 'relatedContent'; var isVueModule = true; GeneralMills.PandoSites.RegisterControlInstance(moduleName, configuration, componentMetadata, isVueModule) }); })();
(function() { document.addEventListener('DOMContentLoaded', function() { var componentMetadata = JSON.parse('\x7b\x22componentName\x22\x3a\x22ConsumerGeneratedContent_3f096167-8a59-43c4-961a-84f57d84be42\x22,\x22deferOptions\x22\x3a\x7b\x22deferComponent\x22\x3atrue,\x22deferType\x22\x3a\x22OnDemand\x22,\x22deferId\x22\x3a\x22red297426c9b24330bf62662e32543d29\x22,\x22deferredContainerId\x22\x3a\x22\x2fmain\x2frdpCgc\x22,\x22deferredContainerView\x22\x3a\x22RecipeDetail\x22\x7d,\x22viewName\x22\x3a\x22ConsumerGeneratedContent\x22\x7d'); var configuration = {"loaderScript":"https://apps.bazaarvoice.com/deployments/tablespoon/main_site/production/en_US/bv.js","type":"RatingAndReview","language":"en","isEmailRequired":true,"isScreenNameRequired":true,"includeRatings":true}; var moduleName = 'consumerGeneratedContent'; var isVueModule = true; GeneralMills.PandoSites.RegisterControlInstance(moduleName, configuration, componentMetadata, isVueModule) }); })();
(function() { document.addEventListener('DOMContentLoaded', function() { var componentMetadata = JSON.parse('\x7b\x22componentName\x22\x3a\x22ThirdPartyScript_df19a63c-4926-4b53-b250-0ff85ad38ea5\x22,\x22deferOptions\x22\x3a\x7b\x22deferComponent\x22\x3atrue,\x22deferType\x22\x3a\x22OnDemand\x22,\x22deferId\x22\x3a\x22r354009f0fed945c5ae16a23225396b20\x22,\x22deferredContainerId\x22\x3a\x22\x2fmain\x2frdpZergnet1\x22,\x22deferredContainerView\x22\x3a\x22ThirdPartyScript\x22\x7d,\x22viewName\x22\x3a\x22ThirdPartyScript\x22\x7d'); var configuration = {"placeholderName":"rdpZergnet1","domContent":"\u003cdiv id=\u0022external-content-container-49056\u0022\u003e\u003cdiv id=\u0022zergnet-widget-49056\u0022\u003e\u003c/div\u003e\u003c/div\u003e","scriptContent":"//www.zergnet.com/zerg.js?id=49056"}; var moduleName = 'thirdPartyScript'; var isVueModule = true; GeneralMills.PandoSites.RegisterControlInstance(moduleName, configuration, componentMetadata, isVueModule) }); })();
(function() { document.addEventListener('DOMContentLoaded', function() { var componentMetadata = JSON.parse('\x7b\x22componentName\x22\x3a\x22DoubleClick_17402628-f426-4216-8cb2-527bbb85a1a4\x22,\x22deferOptions\x22\x3a\x7b\x22deferComponent\x22\x3atrue,\x22deferType\x22\x3a\x22OnDemand\x22,\x22deferId\x22\x3a\x22r26c48fa56ea04bd89b7303b1fcd3098e\x22,\x22deferredContainerId\x22\x3a\x22\x2fmain\x2frdpSecondaryAd\x22,\x22deferredContainerView\x22\x3a\x22DoubleClick\x22\x7d,\x22viewName\x22\x3a\x22DoubleClick\x22\x7d'); var configuration = {"adId":"OMP/tablespoon/recipes/300x250_bottom","minPageWidth":"1000","maxPageWidth":"9999","defaultMinPageWidth":"1000","defaultMaxPageWidth":"9999","enableLyticsIntegration":true,"lyticsWaitTimeThreshold":5000,"size":"[[300,600],[300,250]]","refreshWhenViewed":false,"adContainerId":"c495bd9a-f46c-4831-995d-7881da11859b","doubleClickAdContainerId":"ec6f0142-180a-4857-801a-04e7d079d95d","adCaptionText":"Advertisement","networkCode":"/15704463/","relevantMetadata":["Dinner","Beef"],"privacyOptOut":false}; var moduleName = 'doubleClick'; var isVueModule = true; GeneralMills.PandoSites.RegisterControlInstance(moduleName, configuration, componentMetadata, isVueModule) }); })();
(function() { document.addEventListener('DOMContentLoaded', function() { var componentMetadata = JSON.parse('\x7b\x22componentName\x22\x3a\x22DoubleClick_08734287-0e98-4513-a9ae-d4ed8fcc090d\x22,\x22deferOptions\x22\x3a\x7b\x22deferComponent\x22\x3atrue,\x22deferType\x22\x3a\x22OnDemand\x22,\x22deferId\x22\x3a\x22r1eb964ed28fe4840a3d999df23dcd991\x22,\x22deferredContainerId\x22\x3a\x22\x2fmain\x2frdpSecondaryAd\x22,\x22deferredContainerView\x22\x3a\x22DoubleClick\x22\x7d,\x22viewName\x22\x3a\x22DoubleClick\x22\x7d'); var configuration = {"adId":"OMP/tablespoon/recipes/728x90_bottom","minPageWidth":"768","maxPageWidth":"999","defaultMinPageWidth":"1000","defaultMaxPageWidth":"9999","enableLyticsIntegration":true,"lyticsWaitTimeThreshold":5000,"size":"[728, 90]","refreshWhenViewed":false,"adContainerId":"9466c555-44f5-465d-a535-705cdb417103","doubleClickAdContainerId":"59dc063b-0354-426c-8bce-430d68e2ab9f","adCaptionText":"Advertisement","networkCode":"/15704463/","relevantMetadata":["Dinner","Beef"],"privacyOptOut":false}; var moduleName = 'doubleClick'; var isVueModule = true; GeneralMills.PandoSites.RegisterControlInstance(moduleName, configuration, componentMetadata, isVueModule) }); })();
(function() { document.addEventListener('DOMContentLoaded', function() { var componentMetadata = JSON.parse('\x7b\x22componentName\x22\x3a\x22DoubleClick_147e3d6b-a87a-4ebe-b45b-4661cb73be28\x22,\x22deferOptions\x22\x3a\x7b\x22deferComponent\x22\x3atrue,\x22deferType\x22\x3a\x22OnDemand\x22,\x22deferId\x22\x3a\x22r9b44b44159ea4484bd0a3984b2794f45\x22,\x22deferredContainerId\x22\x3a\x22\x2fmain\x2frdpSecondaryAd\x22,\x22deferredContainerView\x22\x3a\x22DoubleClick\x22\x7d,\x22viewName\x22\x3a\x22DoubleClick\x22\x7d'); var configuration = {"adId":"OMP/m_tablespoon/recipes/300x250_bottom","minPageWidth":"299","maxPageWidth":"767","defaultMinPageWidth":"1000","defaultMaxPageWidth":"9999","enableLyticsIntegration":true,"lyticsWaitTimeThreshold":5000,"size":"[[300,250], [300,600]]","refreshWhenViewed":false,"adContainerId":"a5e4fb6f-2e8b-4f1f-a1a1-e2af5ab91164","doubleClickAdContainerId":"0f8634ec-4824-4f84-91f8-be5c63d79d65","adCaptionText":"Advertisement","networkCode":"/15704463/","relevantMetadata":["Dinner","Beef"],"privacyOptOut":false}; var moduleName = 'doubleClick'; var isVueModule = true; GeneralMills.PandoSites.RegisterControlInstance(moduleName, configuration, componentMetadata, isVueModule) }); })();
(function() { document.addEventListener('DOMContentLoaded', function() { var componentMetadata = JSON.parse('\x7b\x22componentName\x22\x3a\x22ThirdPartyScript_5705100e-e2a8-4487-9eeb-b94536d45d71\x22,\x22deferOptions\x22\x3a\x7b\x22deferComponent\x22\x3atrue,\x22deferType\x22\x3a\x22OnDemand\x22,\x22deferId\x22\x3a\x22rd306920ebce543a594958775314a199b\x22,\x22deferredContainerId\x22\x3a\x22\x2fmain\x2frdpSecondaryAd\x22,\x22deferredContainerView\x22\x3a\x22ThirdPartyScript\x22\x7d,\x22viewName\x22\x3a\x22ThirdPartyScript\x22\x7d'); var configuration = {"placeholderName":"rdpSecondaryAd","domContent":"\u003cdiv id=\u0022ntvoAdSpot\u0022 style=\u0022height:20px;margin-bottom:-20px;\u0022\u003e   \u003c/div\u003e","scriptContent":"//s.ntv.io/serve/load.js"}; var moduleName = 'thirdPartyScript'; var isVueModule = true; GeneralMills.PandoSites.RegisterControlInstance(moduleName, configuration, componentMetadata, isVueModule) }); })();
(function() { document.addEventListener('DOMContentLoaded', function() { var componentMetadata = JSON.parse('\x7b\x22componentName\x22\x3a\x22DoubleClick_a64e89d5-b3d5-45ea-8f7e-3efb4a0c90ce\x22,\x22deferOptions\x22\x3a\x7b\x22deferComponent\x22\x3atrue,\x22deferType\x22\x3a\x22OnDemand\x22,\x22deferId\x22\x3a\x22r11e828baff604f4cbe4e00a937398530\x22,\x22deferredContainerId\x22\x3a\x22\x2fmain\x2frdpTernaryAd\x22,\x22deferredContainerView\x22\x3a\x22DoubleClick\x22\x7d,\x22viewName\x22\x3a\x22DoubleClick\x22\x7d'); var configuration = {"adId":"OMP/tablespoon/recipes/300x250_bottom2","minPageWidth":"1000","maxPageWidth":"9999","defaultMinPageWidth":"1000","defaultMaxPageWidth":"9999","enableLyticsIntegration":true,"lyticsWaitTimeThreshold":5000,"size":"[[300,600],[300,250]]","refreshWhenViewed":false,"adContainerId":"7cb86a33-127e-4965-8e74-dc0a41414c69","doubleClickAdContainerId":"59bf5d45-4e9c-4dbf-97c1-4ddd667f3cc0","adCaptionText":"Advertisement","networkCode":"/15704463/","relevantMetadata":["Dinner","Beef"],"privacyOptOut":false}; var moduleName = 'doubleClick'; var isVueModule = true; GeneralMills.PandoSites.RegisterControlInstance(moduleName, configuration, componentMetadata, isVueModule) }); })();
---
(function() { document.addEventListener('DOMContentLoaded', function() { var componentMetadata = JSON.parse('\x7b\x22componentName\x22\x3a\x22DoubleClick_85b6dd00-9c06-42a8-93c5-4fe5bd1c7f19\x22,\x22deferOptions\x22\x3a\x7b\x22deferComponent\x22\x3atrue,\x22deferType\x22\x3a\x22OnDemand\x22,\x22deferId\x22\x3a\x22r638cd7c45d4b416e8838626ec0a26565\x22,\x22deferredContainerId\x22\x3a\x22\x2fmain\x2frdpBottomAd\x22,\x22deferredContainerView\x22\x3a\x22DoubleClick\x22\x7d,\x22viewName\x22\x3a\x22DoubleClick\x22\x7d'); var configuration = {"adId":"OMP/tablespoon/recipes/728x90_BTF_RDP4thAd-LeaderboardFlex","minPageWidth":"1000","maxPageWidth":"9999","defaultMinPageWidth":"1000","defaultMaxPageWidth":"9999","enableLyticsIntegration":true,"lyticsWaitTimeThreshold":5000,"size":"[[970, 250], [970, 90], [728, 90]]","refreshWhenViewed":false,"adContainerId":"597ffbbf-21c2-40ae-a9e9-4a4c646ef590","doubleClickAdContainerId":"a7389f68-dee5-4a9b-a71f-e627bb04609c","adCaptionText":"Advertisement","networkCode":"/15704463/","relevantMetadata":["Dinner","Beef"],"privacyOptOut":false}; var moduleName = 'doubleClick'; var isVueModule = true; GeneralMills.PandoSites.RegisterControlInstance(moduleName, configuration, componentMetadata, isVueModule) }); })();
---